Petra & P. Lataster: Miss Kiet's Children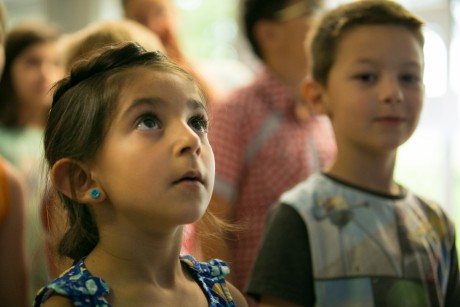 This text is written by Svetlana and Zoran Popovic, the directors of Magnificent7 festival in Belgrade:
This touching film story, without any interview or narrator, introduces us to the turbulent world of small, irresistible, charismatic heroes who have just arrived to a small place in The Netherlands and entered the classroom of an ordinary elementary school. For them, this is all new and confusing, they don't fit in, they are too sensitive and scared. But like all children, they are also restless, naughty and unsubdued, and from the very first moment their brilliant teacher, Miss Kit, begins a great battle using all her skills of an excellent pedagogue. A battle in which, apart from discipline, learning and knowledge, mutual respect and dignity are top objectives.
Discreetly shot at the child's eyes level over a period of one year, this film is a story of joy and experiences that change children and shape their world. Experienced pair of documentarists Petra Lataster-Czisch and Peter Lataster with their perfectly selected participants, through masterly captured moments and true empathy with little heroes in front of their warm and penetrating camera lens, unfold moving sequences of school days and discreetly build a course of one school year. They create a brilliant visual study of learning and maturing, emphasizing at the same time the importance of those who are preparing the society of the future.
Holland, 2016, 115 minutes