Photography and Photographers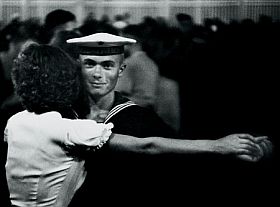 Copenhagen Photo Festival runs until June 17 with exhibitions all around the city. The Danish Film Institute joins the event with an offer to access 6 fine films online – if you are living in Denmark. Therefore this change to Danish language:
Og det er en flot lille samling som DFI tilbyder københavnerne at se gratis i Filmhusets videotek (åbent tirsdag og torsdag 12-19, onsdag og fredag 12-16) eller via filmstriben (spørg om dette på dit lokale bibliotek, hvis du ikke kender ordningen):
DFI kalder serien for "Nærvær/ om fotografer og fotografi" med brug af titlen, "Nærvær", på svenske Jan Troells smukke film om sin ven og kollega Georg Oddner, en film som allle dokumentarister bør se, dels på grund af dens kvalitet, dels fordi Oddner siger så mange vigtige og inspirerende ting om sin métier.
Steen Møller Rasmussen, selv en fremragende fotograf, serverer 33 intense minutter med sin "Fotografi" (2006), hvor han lader publikum møde Keld Helmer Petersen, Per Bak Jensen, Krass Clement og Kirsten Klein. Det er så stramt og præcist, som kun Møller Rasmussen kan gøre det. Uden ligegyldige omsvøb.
Omsvøb, i form af veloplagte og velfortalte anekdoter, er der til gengæld i Jørgen Roos 13 minutter lange kortfilmklassiker om hans elskede H.C. Andersen, en film der baserer sig på ca. 160 forskellige billeder taget af digteren fra han var 45 år.
Robert Fox "Flash of a Dream" (2002) giver os historien om Jacob A. Riis, Kai Michelsen lavede sammen med Ole Brage fra DR "Et andet København 1870-1910" (1980), en uvurderlig ikonografisk dokumentar bygget på fotografier fra Københavns bymuseum, og som endnu en gave til et fotointeresseret publikum kan man se Troells spillefilm "Maria Larssons evige øjeblik", hvor Jesper Christensen spiller fotograf Pedersen. Herligt!
Foto af Georg Oddner fra Jan Troells film "Nærvær".
http://www.dfi.dk/FaktaOmFilm/Film-til-biblioteker/Filmtemaer/Naervaer.aspx