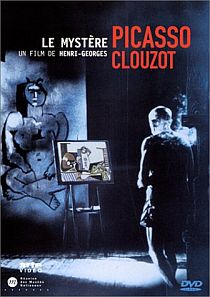 118 black and white works by Picasso at the Guggenheim Museum in New York. The exhibition runs until January 23 and is highly recommended. As the curators put it on the site of Guggenheim: the first exhibition to explore the remarkable use of black and white throughout the Spanish artist's prolific career. Claiming that color weakens, Pablo Picasso purged it from his work in order to highlight the formal structure and autonomy of form inherent in his art. His repeated minimal palette correlates to his obsessive interest in line and form, drawing, and monochromatic and tonal values, while developing a complex language of pictorial and sculptural signs…
In the basement cinema hall of the building of Frank Lloyd Wright the classic art documentary of Henri-Georges Clouzot, "Le Mystère de Picasso", is shown, filmed in the 1950'es with the energetic Picasso in shorts painting on glass. The American distributor Milestone Films describes the film precisely as such:
In 1955, Clouzot joined forces with his friend Picasso to make an entirely new kind of art film — a film that could capture the moment and the mystery of creativity. Together, they devised an innovative technique — the filmmaker placed his camera behind a semi-transparent surface on which the artist drew with special inks that bled through. Clouzot thus captured a perfect reverse image of Picasso's brushstrokes and the motion picture screen itself becomes the artist's canvas. Here, the master creates, and sometimes obliterates, 20 works (most of them, in fact, destroyed after the shoot), ranging from playful black-and-white sketches to Cinemascope color murals — artworks which evolve in minutes through the magic of stop-motion animation. Unavailable for more than a decade, The Mystery of Picasso is exhilarating, mesmerizing, enchanting and unforgettable. It is simply one of the greatest documentaries on art ever made. The French government agreed — in 1984 it declared the film a national treasure. Indeed a classic in the art documentary genre.
France, 1956, 78 mins.
Link to: http://cdn.shopify.com