Piotr Stasik: The Last Day of Summer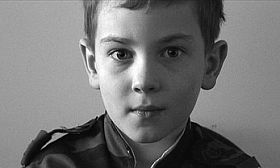 Livia Romano, first year student at the Zelig Documentary Film School in Bolzano has written this review:
"One, two, three …. MARCH FORWARD!"
Straight at attention, with polished shoes, well-ironed pants and belt buckles shining, young cadets are marching in perfect ordered lines, during the parade of the opening day of a Russian military school. The summer is over and it's time to return to school desks with order and discipline. Small soldiers are almost drowning in the uncomfortable, stiff uniforms that hide innocent eyes, fresh young faces and childhood dreams.
Three stories, three different ages, three growth processes take us into the world of an adolescence which is in some ways already too grown-up: a seven-year-old boy who talks about the impending separation of his parents, a boy who speaks about the economical crisis during his lunch break, another one who asks a marshal if he has never been afraid to shoot or even a child who should note down everything his comrades do. However, fantasy and game will not succumb under the weight of arms: the mini-cars, piano, first loves, bike rides, games on the bank of a river, yet possible to dream of a childhood devoid of color. The main storyline of the boys is intercut with images of the city, characterized by shades of grey and desaturated colours, underlining well the anxiety and fear of growing up.
Private thoughts and diary entries blend into the tune of an ethereal soundtrack that seems from one hand to give a breath to the dreams of the cadets, on the other to accentuate the coldness and rigidity of the school where everything must be perfectly in order. This intimate approach is emphasized by delicate camerawork that seems to lightly slide from one story to another as the last tracking shot from one face to another shows.
This is a portrait with special stories that could lead each of us back into our own childhood to the dreams buried there.
Poland, 2010, 34 mins.