Pirjo Honkasalo: My 10 best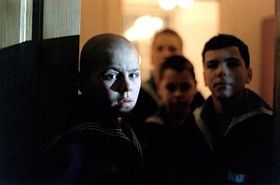 Idfa – International Documentary Film festival Amsterdam – asks every year a prominent director to choose her/his 10 Best Film list, whihc are then screened at the festival. This year the director is Finnish Pirjo Honkasalo and her list goes like this:
The Earth, Aleksandr Dovzhenko (Russia, 1930)
The Mad Masters, Jean Rouch (France, 1955)
The Earth Trembles, Luchino Visconti (Italy, 1957)
Close-Up, Abbas Kiarostami (Iran, 1990)
Kyoto, My Mother's Place, Nagisa Oshima (Japan, 1991)
Quince Tree of the Sun, Victor Erice (Spain, 1992)
Brass Unbound, Johan van der Keuken (Netherlands, 1993)
Tell Me What You Saw, Kiti Luostarinen (Finland, 1993)
The Smiling Man, Walter Heynowski, Gerhard Scheumann (Germany, 1996)
Blockade, Sergei Loznitsa (Russia, 2005)
Bravo is my warm greeting to the director (who will have a retrospective of her own list of masterpieces like "Tanjuska and 7 Devils" and "Three Rooms of Melancholia" (photo)), who has no English language film on the list contrary to what most critics and filmmakers, because of ignorance, normally include. I am looking forward to re-visit Luchino Visconti and Congo-Müller, the protagonist of "The Smiling Man", not to mention the fabulous film of Victor Erice. The festival takes place November 17-28.
www.idfa.nl