Pitch and Trailer Training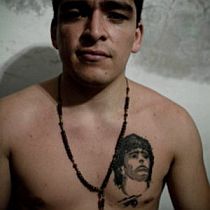 … was the headline of the afternoon session that I attended, run by EDN's Mikael Opstrup with a (maybe too) small introduction by Jesper Osmund on the nature of what he (good choice) calls pitch trailers. Osmund, who has edited several international documentaries, including "Big Boys Gone Bananas" (read review below) stressed the simplicity as a principle for constructing a pitch trailer and showed the sweet "Milk Bar" (Sweden, Ewa Einhorn and Terese Mörnvik, 2007), the effective character-based "The Believers" (final title "Football is God") (Denmark, Ole Bendtzen, 2009) (Photo, tatooed Maradona) and scene-based "Sofia's Last Ambulance" (Bulgaria/Croatia, 2012, Ilian Metev).
After the introduction four projects were picked for pitch, one from Colombia, one from Armenia, one from Russia and one from the Netherlands. The idea was that the projects being pitched were to be commented by a panel consisting of Osmund, Sabine Bubeck from ZDF/arte, Stephan Kloos producer and distrbutor, and producer Lise Lense-Møller. I am not sure that the concept is right – to let the panel analyse the technical side of the pitch without talking about the film that is presented. For me it became a clinical, school teacher like session that showed no interest in the content or ambition coming from the young people, who brought their projects to the room. It made the panel grumpy and combined with a looong procedure around the competition set up to find the best pitch, performed by the sympathetic "Cuban Hat" people, it became boring. The Cuban Hat people spent a lot of time explaining and praising what their initiative is about. The winner, after the hat had gone around, got 48$, some slices of ham and a bonbon. Halleluja!
http://www.wgfilm.com/english/productions/productions/milkbar/
http://vimeo.com/footballisgod