Pitching… Some Thoughts After Baltic Sea Docs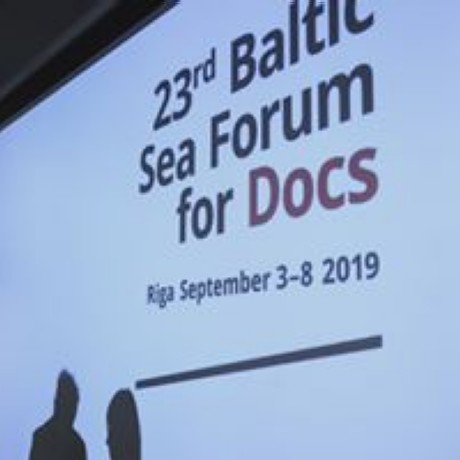 Pitching … has come to stay. Many say that there are too many pitching sessions. And there are many! There should be less is a sentence ofte heard. But more and more are organised. Also on a national basis, where film funds and institutes invite filmmakers to present their ideas in a public forum. Before decisions on funding are being made.
I write this after the 23rd session of the Baltic Sea Docs… A succesful one, I think, I am biased as I am a proud part of a team and has been that from the beginning. Part of the furniture, some will say.
As one who has attended, I guess, almost a hundred of pitching sessions, I also sometimes feel a fatigue but always end up, like in Riga, having a positive reaction: GOOD. When an old cat like me, who experienced the first big IDFA Forum in Amsterdam and have been responsible for the set up of sessions all over, during my time at the EDN and elsewhere: the moment when I see filmmakers express passion and ambition, I am hooked. They agree to try to present their project within the internationalised time standard of public pitching – 7 minutes for the presenter/the filmmaker(s) with the same time for the reactions from broadcasters, sales agents and distributors.
That's how it was in Riga last friday and saturday with a panel of 19 men and women to respond, coming from quite different parts of the world. From Tokyo and Qatar, from Helsinki and London, from Vilnius and Amsterdam. Some of the people at the table had experience, some were there for the first time. Some were able to express their opinion within the limited time, ask questions, give advice – others had problems in doing so. That's how it is.
Pitching: Of course it is absurd – how can you present a film project, that you have worked on for many months or even years, in 7 minutes! Therefore the pitches are normally followed by individual meetings, where more deep conversations can take place. And I think that everyone will agree, that no financing come up immediately after the pitch has been made. It is a dialogue that you start between the filmmakers and their eventual funders. Where you expect respect from both sides – the funders towards the filmmakers and vice versa.
Except for one or two all 24 film projects, that were on stage in Riga at the Baltic Sea Docs, had attended a couple of days of discussion with colleagues and trainers to be ready to do their presentations. During these days trailers and teasers had been worked on. To follow the words from (in most cases) director and producer. For many of the projects from this Eastern European pitch session, the filmmakers had been at other workshops, for instance at the B2B (https://www.b2bdoc.se/news) or at festivals like Cinédoc (http://www.cinedoc-tbilisi.com/) and DocuDays UA (http://docudays.ua/eng/). And several will for sure bring their "babies" to other events. It's about creating interest, finding partners, networking. The colleagual atmosphere at events like the one in Riga is wonderful to experience. Thank you filmmakers, broadcasters and sales agents for this approach.
http://balticseadocs.lv