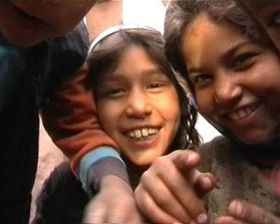 The festival includes no less than 6 competition sections with the Millenium Award as the main one. 19 films compete for the 6000€, several of them known to readers of filmkommentaren.dk. Like "Kites" (photo) by Polish Beata Dzianowicz, "Burma vj" by Danish Anders Østergaard, "Another Planet" by Ferenc Moldoványi, "The English Surgeon" by Geoffrey Smith and "Blind Loves" by Juraj Lehotsky. And on a note basis Slovak Peter Kerekes "Cooking History" and Polish Marcin Latallo's cinema version of "Our Street" – both to be reviewed here on a later occasion.
What a relief to see this festival letting go all the special regulations and demands for exclusivity and world premieres that is otherwise to be found in the festival world. The Polish audience will profit from this golden collection of new quality documentaries. And a bit older ones as well – there is a retrospective with films of Austrian Nikolaus Geyerhalter ("Our Daily Bread", "Elsewhere" and "Pripyat").
What else – allow me to put on Danish glasses and promote the fine film of Katia Forbert and Annette Mari Olsen, "My Iranian Paradise" which is in a special programme called "Iran Gate". More about this film is to be found on the website of the Danish Film Institute, see below.
http://www.dfi.dk/tidsskriftetfilm/64/frontpage.htm (article called "Bridgebuilding")