Political Film Group Argentina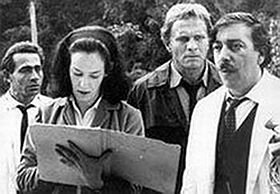 Sunday in Buenos Aires. As hundreds of other we decide to pay a visit to the St. Telmo market. At the main street of the market I see a stand with videos, and many of the covers are familiar to me. There are films by Glauber Rocha, Alea, Solanas and many others, all of them dealing with political resistance, and some of them classics in the history of documentary cinema. I try to get into a dialogue with the man at the stand (my Spanish is pretty limited) and understand that he represents an activist film group called Alavio. I buy some films and go home and find their website. That has an English language page from where the small quote below comes. It seems, however, that the website is not updated any longer. The other one, Agore Tv, is in Spanish and includes news, clips and a reference to available films.
Grupo Alavio is the name, they state that they have been participating in working class struggles for over 10 years. "As activists struggling for social revolution, the debate of whether the reach of the camera is enough is an inevitable discussion".
Photo from Glauber Rocha's "Terra em transe".
http://www.revolutionvideo.org/alavio/englishhome.html