POV: Cakes, Ellsberg and A World in Conflict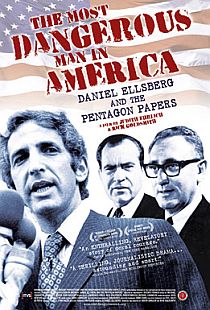 POV means Point of View and is the name of " American television's longest-running independent documentary series", part of the PBS in the US and led by executive producer Simon Kilmurry, who is a frequent visitor to documentary events all over. From him a press release was sent to filmkommentaren.dk – here is an excerpt that gives you the idea that the American audience can watch high quality, creative documentaries. If you want to know more about POV, go to the website, that has trailers, background articles, a blog etc.:
The new season in June kicks off with Kings of Pastry. D A Pennebaker and Chris Hegedus' behind-the-scenes account of France's greatest pastry competition, an epic, a three-day test of passion, perseverance, artistry amd nerves. In advance of the new season, on June 7, POV will present a special encore broadcast of the Oscar nominated film The Most Dangerous Man in America, in honor of the 40th anniversary of Daniel Ellsberg's release of the Pentagon Papers, an event that changed the course of the Vietnam War and world history. POV airs on PBS on Tuesdays at 10 pm…
The season programme tells of people as different as cowboys herding sheep into Montana's rugged mountains for the last time and aspiring teenage NASCAR drivers whirling around tracks at 70 miles per hour before they're old enough for driver's licenses. In addition, POV and the renowned oral-history project StoryCorps will team up for the second year to present everyday people's intimate conversations in five imaginative and whimsical animated shorts, on television and online.
Also included are soldiers at war and at home, in Armadillo and Where Soldiers Come From; political activists who cross the line into law-breaking and authorities who may be crossing their own lines to catch them, in Better This World and If a Tree Falls; Chinese workers caught in the largest human migration in history, in Last Train Home; a Colombian librarian whose books travel on hooves through inhospitable jungles, in Biblioburro; Finnish men unburdening themselves in a most surprising fashion, in Steam of Life; Russian classmates reflecting on their country's sweeping transformations on the 20th anniversary of the fall of the Soviet Union, in My Perestroika; and a cunning Cambodian journalist who elicits a startling admission about the 1970s "killing fields" from the highest-ranking surviving Khmer Rouge leader, in Enemies of the People.