Prizes for Deconstruction of an Artist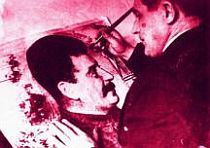 Latvian director Peteris Krilovs' documentary about legendary artist Gustav Klucis took several prizes at the National award ceremony in Riga a week ago: best director, best editor (Danish Julie Vinten), best script (Pauls Bankovskis) and best sound mix (Andris Barons). A big triumph for the company Vides Film Studio and its energetic leader Uldis Cekulis, who could also find joy in the fact that Maris Maskalans was given the prize as Best Cameraman for his work in "Three Men and a Fish Pond", another production of the studio.
To our Danish and Swedish readers: The film about Klucis (one hour version) was shown on Swedish television (SVT2) yesterday and will be repeated October 11 13.30 and October 14 23.05.
http://svt.se/2.109829/1.1715907/gustav_klucis