Protest at the Toronto International Film Fest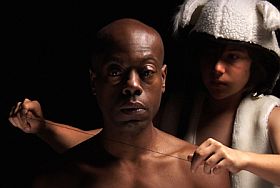 This clip from an article in Realscreen makes you think… is he right or wrong:
"Filmmaker John Greyson is taking his boycott of Israel to the Toronto International Film Festival. Greyson, who withdrew his film Fig Trees (photo) from the Tel Aviv International LGBT Film Festival in April, has written to Toronto festival organizers to take his short documentary Covered out of the September event's Short Cuts Canada sidebar. Greyson, who is also a film professor at Toronto's York University, said the action was done in protest over TIFF's inaugural City to City program because it spotlights Tel Aviv, not over the Israeli directors showing their work in Toronto.
In his letter Greyson complained the Tel Aviv sidebar does not include Palestinian artists or filmmakers…" Of course the organisers of the festival thinks Greyson does wrong and should have kept his film in the programme and taken initiative to debate. Should he – I am not convinced.
http://www.realscreen.com/articles/news/20090831/greysontiff.html