Razvan Georgescu: Testimony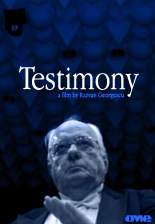 The director was – in his own words – given a second chance after a brain tumor operation. The doctors gave him three years more to live and he has used these three years to – own words again – enter this film journey between life and death, where he visits artists who are in the same terminal illness situation or who in other ways have been inspired by challenging their mortality.
The viewer meets sociologist and writer Helmut Dubiel, screenwriter William Finn, artist Katherine Sherwood, video artist Bill Viola, painter Jörg Immendorf, the director´s father Remus Georgescu and the sculptor Peter Jecsa.
… and the director himself. We don´t see him but we hear his voice once in a while to remind us how long time there remains of the film, and – he plays in a completely unsentimental way with this – maybe of his life. (Razvan Georgescu is still alive and continues filming other people from the art world for a new version of the film).
All the way through the film we return to the operation room, doctors put on gloves ready for action, as is the sculptor, the conductor, the painter and the video artist Bill Viola, who has one of the most interesting parts of the film, in which he describes what was behind his masterpiece "The Passing". I mention this but could have taken other sequences from this very well constructed and inspiring film essay on the healing nature of art.
2008, 90 mins. Sneak preview. Will go to festivals and on Arte. http://www.ovie.com/projects/testimony/