Rebellious Football Players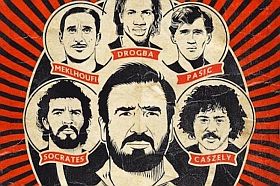 arte has declared "Summer of Rebels" and post-euro championship in Ukraine/Poland a 90 minutes long documentary is being broadcast on the German/French cultural channel and published on dvd. Eric Cantona, in his career himself quite a controversial, and brilliant, football player, is guiding the viewers to five (some alive, some dead) outstanding players, who had guts to go against the mainstream to take political initiative. Here is the (edited) intro from the website of arte, in French:
"Un film–manifeste qui réaffirme les valeurs du sport dans la société à travers cinq histoires chères à Eric Cantona.
L'histoire de Didier Drogba, qui en 2004, en pleine guerre civile ivoirienne, ignore les mises en garde de son club et de ses agents pour lancer un appel à l'unité et demander aux deux parties de déposer les armes. Celle du chilien Carlos Caszely qui fut, en 1973, un des rares footballeurs d'envergure à s'opposer et à défier ouvertement la dictature de Pinochet. Rachid Mekhloufi, un joueur de l'équipe de France qui, pendant la guerre d'Algérie, choisi la clandestinité et rallié son pays pour défendre, à partir de 1958, les couleurs de l'équipe du FLN. Celle de Predrag Pasic, international yougoslave qui, défiant les bombardements et les haines, a choisi de fonder une école de football multi-ethnique dans le Sarajevo assiégé des années 1990. Celle du brésilien Sócrates qui, en pleine dictature militaire au début des années 1980, transforme chaque match en meeting politique pour la démocratie.
Les rebelles du foot, en DVD dès le 20 juin chez ARTE Editions.