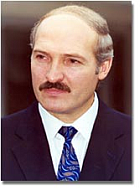 Guard dog or lap dog? Seems to be a very actual and relevant question that journalists in Belarus (and other countries as well) have to ask themselves. In the country of Lukashenko no criticism of the President and his regime will be tolerated, for which reason many journalists have been and are beaten up – or simply disappear.
As a world premiere in a full cinema hall, at the "Is it Easy to be Different?" festival that runs parallel to the Baltic Sea Forum, this is what is the theme of the film "Journalists" by Aleh Dashkevich (director) and Volha Nikalaichyk (producer). It follows some journalists, interviews them or their relatives, some of the journalists now live abroad, and brings images from demonstrations where journalists and cameramen are beaten up. Plus some of the well known sequences with the President himself. As a creative documentary "Journalists" will not be prized but as another strong documentation of the appalling political situation in Belarus, it will travel the world to festivals and hopefully also to tv channels. And thus spread the message.
If anyone wants the film, feel free to contact the director at
Photo: Mr. Lukashenko.