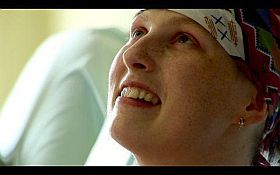 The Hot Docs Canadian International Documentary Festival (April 29 – May 9) has introduced an interesting category in this year's festival programme: Ripping Reality. Ten films have been chosen that in each their own way have added something new to the documentary genre in the last decade. I was asked to give my point of view on this and listed 10 Eastern and Central European works that are close to my heart and demonstrates originality and innovative strength. The Hot Doc people, led by festival director Sean Farrell, has put up a website that has a lot of interesting texts on the state of the art of the documentary. Here is my text contribution for the initiative – and do visit http://www.hotdocs.ca/film/program/Ripping%20Reality
and
http://www.rippingreality.com/
Tue Steen Müller: The last decade of documentaries, a new wave or new waves… well, you can have a look at it from different angles. As a documentary workshop organizer, both in my time as director of EDN (European Documentary Network) and now as a free lancer, I see more and more upcoming talents who try to fight their ways through endless sessions of
pitching projects to public broadcasters, whose editors have been forced to go more and more mainstream. The battle is lost as it was said by ex-leader of Arte France documentary section, Thierry Garrel, and what he meant was that in the most important place for creative documentaries, Arte, the formatting has arrived and will stay. The same can be said for "Storyville", where Nick Fraser a decade ago could take risks, where he today is threatened by the BBC wish for higher ratings. Play safe, this is what we have to do nowadays, another Arte editor said to me the other day.
So even if we see more emerging talent, documentary festivals all over, a growing audience, to watch documentaries have become a natural thing, often in the cinemas or on the net or on dvd – at the same time as public television, and many of the bigger festivals by the way, goes for the formatting of the creative documentary. Quantity before Quality. The result is that the average television viewer gets the impression that a documentary is a film, where there is voice-off talking from start till end, a lot of interviews and quick editing.
The exceptions that I found, the originality, the personal films with a personal style or handwriting – I saw them primarily in the Eastern part of Europe, where I have been working and where the message to the young filmmakers have been quite clear: You should know about the Western European documentary market and its demands, but please please keep your own voice. The coming list includes films that I have found important from the last decade from the East of Europe:
1. CITIZEN HAVEL (Pavel Koutecky, Miroslav Janek, Czech Republic, 2008)
Yes, it is quite classical in its observational style and therefore also untypical for documentaries of today, where for instance Arte has dropped the observational documentary from its programming policy. 12 years of filming and what a character!
2. BLIND LOVES (Juraj Lehotsky, Slovakia, 2008 )
Five years of research getting to know his blind characters and then writing a script using situations and dialogues that he had heard to put together a four episode hymn to Love. A first feature length from Lehotsky!
3. THE MOSQUITO PROBLEM (Andrey Paounov, Bulgaria, 2004)
Intelligent, non-linear dramaturgy, humour, many layers, shot on Film.
4. 66 SEASONS (Peter Kerekes, Hungary/Slovakia, 2003)
Inspired by Jan Gogola, dramaturgical icon of Czech Republic, this is a way to deal with history in a constant surprising humorous way.
4. THE BELL (Audrius Stonys, Lithuania, 2007)
It starts as a piece of journalism and shifts slowly into a piece of cinematographical beauty taking the viewer by surprise. A true poet.
5. BEFORE FLYING BACK TO EARTH (Arunas Matelis, Lithuania, 2005)
A masterpiece daring to deal with hospitalised children with cancer in a lively, non-sentimental way.
6. RABBIT A LA BERLIN (Bartek Konopka, Poland, 2009 )
Well, it was nominated to an Oscar, quite unusual for a film that is playful, multi-layered, original in approach to its theme, super!
7. CZECH DREAM (Filip Remunda, Vit Klusak, Czech Republic, 2004)
Long before the Yes-men and much more cinematic, satirical on a high level, a breakthrough for new Czech documentary.
8. ANOTHER PLANET (Ferenc Moldovanyi, Hungary, 2008)
A cinematically beautiful hymn to the children of this world, Moldovanyi has his own style of passion.
9. CASH AND MARRY (Atanas Georgiev, Macedonia/Croatia, 2009)
Original in its form, very actual in its theme, European problem number One today, getting into the EU paradise!
10. CHEMO (Pawel Lozinksi, Poland, 2009)
The title says what it is about, the form is pure observation through close-ups, it is made with love and knowledge about Cinema – putting together sound and image in a personal, organic flow. (PHOTO).
I could mention many others. And these new films don't just come out of the blue, they build on a tradition of great filmmaking, a tradition that they oppose or continue: Russian Kossakovski and Dvortsevoy, Latvian Herz Frank, Ivars Seleckis and Juris Podnieks, Polish Marcel Lozinski and Kieslowski, Czechoslovak Dusan Hanak, Estonian Mark Soosaar and many others further back in time.