Rithy Panh: The Missing Picture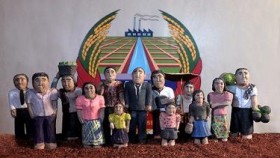 Co-editor of filmkommentaren.dk Allan Berg did not like the still picture that I had picked for the article on the Oscar race for documentaries. I am sure it is because he has not seen this amazingly strong hybrid documentary that competes in the foreign-language feature film catagory. A first person film, and now I quote from Guardian's Peter Bradshaw, a reviewer I always respect:
… "a sombre, stylised memoir of the director's childhood when his country had been taken over by the Khmer Rouge… Panh tells his story through a mixture of Khmer Rouge propaganda newsreels and little clay figurines (photo). It was perhaps the only way of managing the devastating memories. Rather as infant victims of abuse will sometimes be asked by social workers to tell their story through soft toys, Panh tells part of his own history through these figurines. As well as this stratum of tragedy and pain, The Missing Picture has an element of Godardian reflection: the "missing picture" is the definitive image of truth for which he is searching…"
Yes, Godard is here, there and everywhere… and Panh's film has the most touching and eloquent personal commentary I have heard for a long time.
http://www.theguardian.com/film/2014/jan/02/missing-picture-review