Robert B. Weide: Woody Allen: A Documentary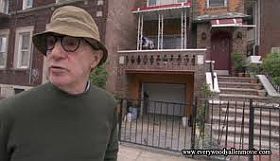 I tend to avoid topical documentaries with no artistic purpose of its own, so why do I want to see a documentary about Woody Allen? Furthermore, I believe I know most things about Allen so a biographical film would almost only be disappointing. But to be honest, I'm just a big fan. I have seen all his films and his writing have brought me through some difficult and sleepless nights in the past. If I was forced to mention my favourite film of all times at gun point (or even "gub point" – before I took the money and ran) I would probably say "Manhattan".
Thankfully, this film is quite satisfying in many ways. Not only does it provide us with a pretty good insight on his early career as a joke writer and stand-up comedian, it also gives us good commenting on the better part of his films. Allen himself is either waddling around or willingly talking to the director about his methods, dreams and hang-ups, and most of it is known stuff. He laments that he's a comedian and not a tragedian (which I've always thought is a false premise) and he speaks highly of actors and ex-wives. We meet a lot of his fellow workers in interviews and there is some good archive material as well as good excerpts from his feature films, although with a greater emphasis on the first two thirds of his career.
All in all it's pretty skillfully and amusingly put together, for instance when a comment by one of his agents about a career advice given to Allen is followed by a scene from "Broadway Danny Rose" in which Allen gives career advice to a balloon folding act. But towards the end of the film we are on the set of "You Will Meet a Tall Dark Stranger" and suddenly you want to know even more about his film making and his views on acting and aesthetics. Supposedly, the PBS TV version holds another hour with more nerdish material and I would love to get a hold of that.
As a documentary, it's surely entertaining and will most likely give even non-fans an urge to watch or read more Woody Allen, but of course it lacks a bit as a work in its own right. I don't see how you could do it differently, though, except digging more into the dynamics of the schism between tragedy and comedy which is such a huge part of Allen's art.
Now I will go re-watch "Interiors" which this film claims was very serious and Bergmanish (which it is) but as I actually recall as being quite funny as well. And since I know I'm going to die someday, I'd better get my laughs now.
Robert B. Weide: Woody Allen: A Documentary, USA 2011, 113 mins (theatrical cut).