Salome Jashi: The Leader is Always Right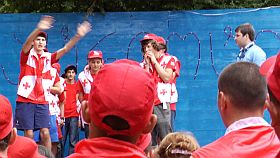 The title of the film indicates where the director stands. As does the building of this observational documentary from one of the patriotic youth camps in Georgia. With a fine eye for details young director Salome Jashi (previously written about on this blog) follows the 10 days of leadership education for Georgian teenagers, who do in the beginning of the film act like all summer camping teenagers do. They are having problems with all the rules and the discipline, they would rather just have fun, it seems. But slowly what at first sight seemed to be a harmless Western-like scout camp turns into a pure propaganda machine where patriotic slogans are taught to make the youngsters proud of their country, their language, their culture, and dislike others: "Glory to our Country", "Kick the Russians Out", "the Future is Ours"…
The director has chosen to follow the development of some fine characters. The leader of a squad, pretty relaxed, baggy trousers and a potbelly but constantly trying to make the young ones understand that lack of discipline will be punished. The very young boy, who is not at all happy being at the camp, and wants to go home, but is persuaded by the woman leader of the camp (quite a scary manipulator) to "sacrifice one more day for me". And the leader-to-be who takes everything according to what he is told. With a big smile. A scene at the end of the film gives you the creeps. A theatre play is performed that relates to (the province) Abkhazia as a person, who has suffered all atrocities but will overcome. It reminds you of propaganda scenes from the USSR that Georgia broke away from!
A text before the end credits roll informs you that 100.000 youngsters have visited the camps that were initiated by the president Sakhasvili in 2005. The film is to be shown on Georgian tv this coming friday. Hopefully it will create a big necessary debate about a country that does not need to repeat what totalitarian states have done and do. The high quality film of Salome Jashi deserves to be treated like that in and outside Georgia.
Georgia, 2009, 45 mins. Produced with the support of Goethe Institute Tbilisi.