Sarah Polley: Stories We Tell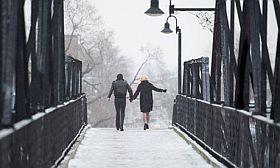 Some Danish film professionals adviced me to watch Canadian Sarah Polley's Stories We Tell. They saw it at cph:dox, where it did not get the attention it deserved, it was all about "Act of Killing" at that festival.
I watched the film with my wife, we agreed on its excellence, I took notes but did never get to the computer to write. Time has passed and I can pass on some superlatives about a film on a family but I can not go deeper, memory fails – I line up a couple of links, including one to the director's blog text from the NFB (National Film Board), the producing body behind the film. It is one of the most personal and intelligent texts I have read from a director for years.
Diana is the mother of the director, Michael the father, actress and actor. Rumour has it that Michael is not her father. Sarah wants to and makes a film about this, finds out who is the biological father, she tells a story as her father tells the story and others tell their story… who is then the father is maybe not so important for the film, what is important and what keeps you totally engaged and fascinated is the way Sarah Polley, an actress herself, tells her story, in a flow full of life, full of humour and joy of life, and all kinds of emotions, in a flow with private archive, made-up archive with actors, clips from performances, interviews. The mother, however, the main character, can not tell her story herself as she died, when Sarah was 11.
At the end the biological father, pretty well known in Canadian entertainment life, says to Sarah: I'm the only one who can tell the story about me and Diane. To that the answer is easy: Well, a lot of stories have come up through this elegantly made film, the director's (one sibling as I remember it says "and why does she want to make this film?") and the father's, the two of them having the most impressive scenes in the film.
http://www.guardian.co.uk/film/2012/aug/29/stories-we-tell-review
http://blog.nfb.ca/blog/2012/08/29/stories-we-tell-a-post-by-sarah-polley/
Canada, 108 mins., 2012