Sarajevo FF: Dealing With the Past Stories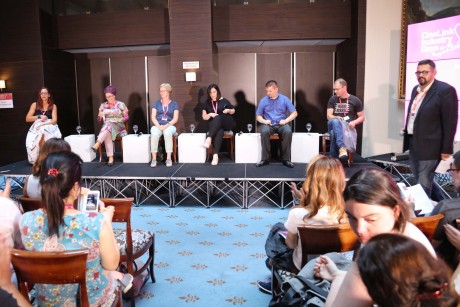 Back in Copenhagen. Thinking of the many documentary adventures I take with me from the Sarajevo Film Festival. To be part of the training team of representatives from ngo's and human rights organizations was the experience for me. Engaged, committed people who every day deal with human beings who suffer from the consequences of the wars in the 1990'es – and try to help them. Respect!
In an article by Vladan Petkovic for Screen Daily, link below, the stories delivered to a full hall Monday afternoon at the Hotel Europe are described. Read that and let me introduce the panel on the photo:
From right colleague tutor and here moderator Robert Zuber and on stage Goran Zoric, Edin Ramulic, Mediha Haskic who translated for Edin, Augustina Rahmanovic, Sabiha Husic and Mirna Buljugic.
https://www.screendaily.com/news/sarajevos-true-stories-market-opens-competition-for-producers/5131637.article