Sarajevo FF: True Stories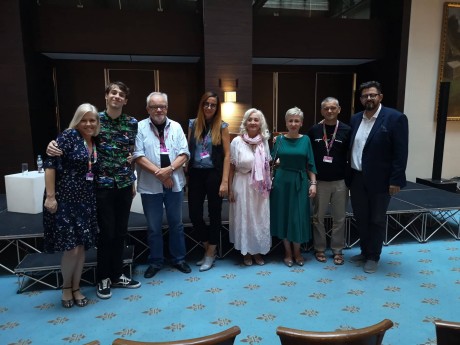 Here we are after the presentation of 4 stories that take its start in the past: From Left Nataša Damnjanovic (tutor and editor of visuals), Ishak Jalimam (organiser), me (tutor), the four storytellers Mirna Buljugic, Senija Jakupovic, Iva Radic and Aleksandar Zolja, Robert Zuber (tutor and moderator). Staša Bajac (tutor) and the mother of the Dealing with the Past project at the festival Maša Markovic were missing.
After… 90 minutes of emotionally strong stories presented in a full house Atrium in Hotel Europe: festival participants, filmmakers, who might be interested in picking up the stories and develop them into films.
For four days we were together talking about the stories and about how to
present them in a way that is understandable. A pitch you could call it or stories that need to be brought to a wider audience by people, who are close to them and/or have lived them. Survivors who talk about those who did not survive. Stories from the past seen through the present.
Aleksandar Zolja told about the "living library" project, where, through the organisation Helsinki Citizens' Assembly, he is one of those who organisers that survivors of the war in Bosnia meet with young people, for instance high school students. They talk about their (horrible) experiences, the aim is to get rid of prejudices among the young ones, or call it aim for reconciliation. Zolja told the story of Fikret Bacic, who returned from working in Germany to see that his whole family had been executed. Bacic, one of the living books, was in the audience being welcomed with a big applause.
Senija Jakupovic was the next presenter, a true charismatic storyteller, whose own story is of great interest, with a Danish angle, as she left for Denmark after her husband was taken to a camp. In Denmark, in Stubbekøbing, she was continuing her job as a teacher for a couple of years, returning to Bosnia, where she met Selma Cengic, the protagonist of a story that could be turned into a documentary film or a feature. Cengic, present in the audience, was in Germany, when she decided to return to fight in the Bosnian army as the only woman. Her experience in the army, meeting a Serbian Bosnian, who had been in the Bosnian army right from the beginning, made her leave hatred and work for reconciliation.
In this writing I am simplifying and I can't show you the visuals that accompanied the presentations, so well put together by Serbian Nataša Damnjanovic and Staša Bajac.
Much of the visual material come from the archive collected by Birn, the Balkan Investigative Reporting Network, whose Mirna Buljugic took us to a story about a man, who was next in line during a massacre at the Koricani Cliffs. The man, now living in Norway, decided "to jump into life", down the cliffs where he woke up later surrounded by hundreds of dead bodies. Incredible story, the man became one of the main witnesses at the Tribunal in Hague, where perpetrators like Radovan Karadzic were convicted.
Finally Iva Radic told her own story "Iva Radic, who is still searching for the remains of her father killed in Vukovar"… in a passionate heartbreaking way.
I will quote from the catalogue: "…Iva Radić has spent the past twenty-eight years searching for her father. Radić was born to a Serb mother and a Croat father, who did not fight in the Croatian War of Independence. When the war reached Vukovar, the Radić family fled. "My father Mijo had relatives in Split, who told him they would welcome him and me, but neither my mother nor the children from her first marriage. After that, we all went to Serbia, but soon we decided to return to our hometown. Upon our return to Vukovar, soldiers of the Yugoslav Peoples' Army stopped our car not far from the Velepromet storage facility, which had been converted into a makeshift prison camp. They ordered my mother, my sister – who had just reached legal age – my physically disabled father, who suffered from muscular dystrophy, and me out of the car, and took us to be interrogated. They separated my father from the rest of us, and took him to be questioned in nearby Negoslavci. That was the last time we saw him. After ten days, they put my mother, my sister and me on a bus to Serbia," recalls Radic, citing events from November of 1991, when she was eight years old…"
In the accompanying visuals you saw Iva Radic confronting a man, who according to her was the one who drove the father away. Quite dramatic scenes – for me first of all a love story between a daughter and her father, "my guardian angle", ahh she spoke so beautifully about him, the daughter who now lives in Belgrade and has a 15 year old son and a mother, who is worried for the daughter and her mission.
Thank you Maša Markovic for including me, coming from outside the region, in this important initiative, that is supported by Robert Bosch Stiftung. Unforgettable.