See Ukraine – through Cinema and Art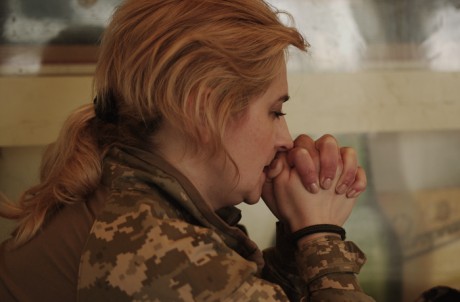 Through documentary films, exhibitions and discussions Ukrainians from the art world travel Europe to present their country and its search for an identity. It's "a cultural diplomacy project of HRDFF Docudays UA organized with support from the Open Society Initiative for a Europe (OSIFE)".
The title "SEE Ukraine: An Empty Pedestal" needs an explanation and is given like this on the website (link below) from where I take my quotes: "Is it necessarily to put new heroes on old pedestals and follow the footsteps of the old ideologies? During the discussion the participants of the project "See Ukraine: An Empty Pedestal" will present a variety of approaches to the search for modern Ukrainian identity…"
And this is what project director Alla Tyutyunnyk says:
"Ukrainian Euromaidan turned out to be a major civilizational challenge of the 21st century. In Ukraine a clash of civilizations has occurred, which started to change world order that emerged after the Cold War. We are convinced that documentary films, photography and live communication offer the best way of quickly and effectively immersing foreign viewers in the socio-cultural and political reality of our country, of bringing the truth about the Russian aggression and showing that today Ukraine is a European state of freedom, positive change and talented people, courageously and selflessly defending the highest European values".
Warms my heart this belief in art, communication through discussions on behalf of a country instead of the usual official propaganda speeches. Free discussions – there is a lot to talk about, when you think about the current situation between Russia and Ukraine.
SEE Ukraine is now in Paris (of all places!), where it stays until December 9th. Last night there was an opening debate on "The New Ukrainian Cinema between art and politics" and tonight the exhibition "An Empty Pedestal" opens on Place Saint Michel. The remaining days there are film screenings of "Home Games" by Alisa Kovalenko, "Dixie Land" by Roman Bondarchuk, "The Cacophony of Donbas" by Igor Minaiev and "Delta" by Oleksandr Techynskyi. The directors are present to meet the audience. As is the coordinator of the project Olga Birzul from the DocuDays festival.
Before that in Munich from November 6 to 10, there was a discussion, the exhibition and films – "No Obvious Signs" by Alina Gorlova was a new title and then to Madrid in October (12-14), where the film "Women in War" by Masha Kondakova was shown.
Here is another quote from the website:
"There are two opposing trends taking place in Eastern Europe: "de-communization" and "re-communization". The whole controversy is not about communist ideology but about authoritarianism. In an increasingly visible worldwide confrontation between new authoritarianism and liberal democratic values, Eastern Europe, and Ukraine in particular, plays a vital role. To Putin's "re-communization", i.e. return to old Soviet practices and authoritarian politics, Ukraine after 2014 "Revolution of Dignity" tried to oppose "de-communization". In a broader sense Ukraine's de-communization meant freedom against oppression, pluralism against coercion, justice against arbitrariness. But did Ukraine succeed on this path? Did "de-communization" lead to a deeper social change, or it stopped on the surface? Did it break from the Soviet past, or it imitated its practices? And finally, what Ukrainians want to do with this "empty pedestal"?"
And links to the films reviewed on this site:
Home Games: http://www.filmkommentaren.dk/blog/blogpost/4258/
Delta: http://www.filmkommentaren.dk/blog/blogpost/4073/
No Obvious Signs (Photo): http://www.filmkommentaren.dk/blog/blogpost/4256/
Dixie Land: http://www.filmkommentaren.dk/blog/blogpost/3877/
http://seeukraine.org/schedule?fbclid=IwAR1iJowAb-3-wAAMyZiAD_vp2vEdf3BlQ2qaKWxjSLISS1vkoPGmu-L-8ig