Serbia – Moments of Beauty and Joy 3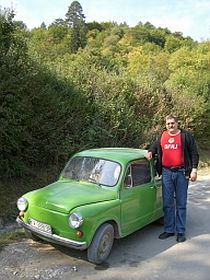 Yugoslavia, a country that once was. At a time that was much easier for many people. It is absurd when you get to talk to people in Serbia and ask them where they come from… well, my mother was born in Croatia and my father is from Montenegro and my grandmother… and they all speak the same language with tiny differences.
Memories from Yugo-time are to be found everywhere. Look at the photo of our driver Misko next to the small car. This is what Zoran Popovic told me about the car: the little car is called FICA (and C hase the same additional dash as French é – and it's pronounced like in Italian Ciao)…. But how could big strong Serbian males fit into it.