Serbia – Moments of Beauty and Joy 4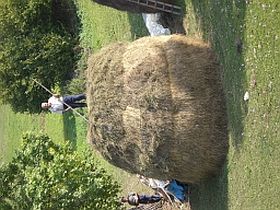 Two images came constantly to my eyes when we travelled the amazing landscapes of Serbia – reminded us in many places again and again of Tuscany. One was all the unfinished houses, the reason for which we were told to be a combination of vanity ("we must have a two-store house as the neighbour") and the fact that when your house is still under construction you dont have to pay tax. So many move into the basement floor and never finish the floor above.
The other image was of the sculptures in the landscape, according to the Popovics: the hay sculpture is called STOG. It is often said STOG SENA (translation: STOG of hay.
Turn your head – sorry I don't know how to make it en face – and watch the man on the top of a stog, two of them is food for one cow during winter time.