Sergei Loznitsa In Lisbon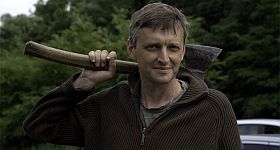 Loznitsa (b.1964 in USSR (Belarus)) (photo) is one of the gurus at the European film festival circuit. Respected for his film language and for his extraordinary use of archive material. His last film is "My Joy", a fiction film, the first in that genre from the director.
IndieLisboa (January 13-16) offers a complete retrospective of the director's work – apart from the fiction film, 3 feature duration and 8 short documentary films: The retrospective begins with the screening of My Joy, the first fiction and the most recent film of the director. The rest of his 11 films (3 features and 8 short films), all documentaries, produced between 1996 and 2008, will be screened during the four days: Today We Are Going to Build a House (1996), Life, Autumn (1998), The Train Stop (2000), Settlement (2001), Portrait (2002), Landscape (2003), Factory (2004), Blockade (2005), Artel (2006), Northern Light (2008), Revue (2008). The director will be in Lisbon to present and discuss his work.
To get a taste of the style and themes of Sergei Lotnitsa's film oeuvre, and I use that word, as he is a real auteur, you can visit his own website, a small piece of art in itself. Here you also can find trailers from his work. As you can on the equally excellent site of Institute of Documentary Film (click on the titles).
My personal favourite is "Blockade" about the 900 days siege of Leningrad during WW2. 3 of his films are available on the vod platform DocAlliance: "Artel", "Landscape" and "Portrait".
http://docalliancefilms.com/director/718-sergej-loznica/