Sergey Dvortsevoy in Moscow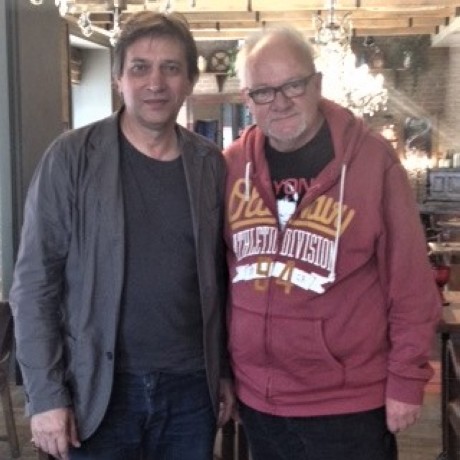 8 years later… same place, Moscow, I met one of my documentary heroes, who has been written about so many times on this site. I met Dvortsevoy back in the 1990'es. One time on the island of Bornholm at the Balticum Film & TV Festival, where his "Bread Day" was chosen as the best documentary – still remember that the film copy had not arrived and I had to ask the director if we could show it from a VHS cassette. Ouff! But he won! Since then I have met the director here and there and everywhere, last time 8 years ago when I was here for the Moscow International Film Festival.
I know very few directors, who are so passionate about his profession. Engaged, committed to social and human matters as he shows in his new fiction, « Ayka », that premiered in one version at the Cannes Film festival and in another one months later. Russian premiere in February 2019. I have not seen the film yet. It has brought him to festivals around the globe and the main character, played by Kazahk Samal Esljamova received the award as best female actress in Cannes.
Back to his documentary masterpieces, "Paradise" (1996), "Bread Day" (1998), "Highway" (1999), "In the Dark » – many have asked me where you can get hold of them. The good news from Dvortsevoy is that his films are being digitized in London and there should be fine fresh copies/files ready in a month or so. I have asked him to tell me, when it will happen so I can maybe push retrospectives to happen in Denmark or elsewhere.
Here are a couple of links to what has been written about him on this site :
http://www.filmkommentaren.dk/blog/blogpost/4212/
http://www.filmkommentaren.dk/blog/blogpost/671/