Sergey Dvortsevoy: Tulpan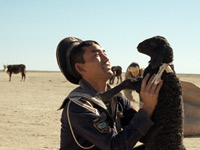 The Danish Cinematheque, situated at the Film House in Copenhagen, launches from this month a new and very welcomed initiative: "film of the month", where a film – contrary to the normal 2-3 screenings – gets a Danish premiere and several screenings. For films that did not get into the usual cinema distribution, I suppose, but still deserves a helping hand from… the state, in this case through the Danish Film Institute and its Cinematheque. Active cultural policy, thank you!
The Cinematheque starts brilliantly with the new film by Sergey Dvortsevoy, "Tulpan", that took him 4 years to make, and which has already won quite a lot of prizes at festivals.
Readers of this site will know the name Sergey Dvortsevoy, who has often been praised for his excellent documentaries: "Paradise", "Bread Day", "Highway", "In the Dark".
www.dfi.dk (for Danish readers)
http://hcl.harvard.edu/hfa/films/2006fall/dvortsevoy.html
(about the films of S.D.)