Serhiy Bukovsky: V.Silvestrov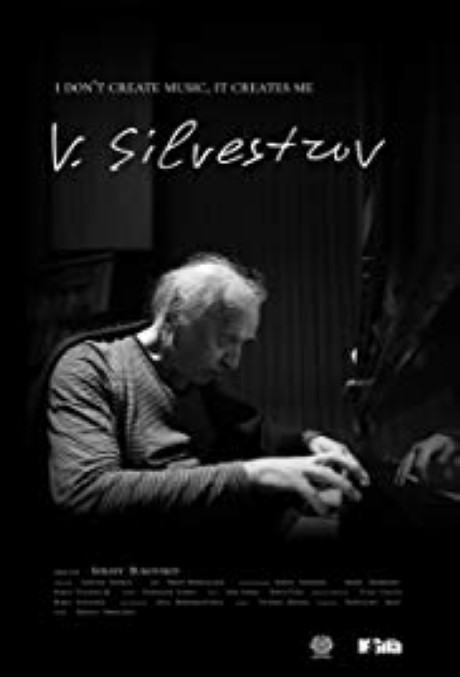 Acclaimed Ukranian director Serhiy Bukovsky has made a film that invites me – and an audience – to meet the composer Valentyn Silvestrov. I knew the name but not the person and just a little about his quite impressive work. When I saw that the film was to be premiered in Kiev during the DocuDays festival, I contacted Dar'ya Averchenko, who on FB had posted a text about a press screening of the film. She was so kind to send me a link. As the DocuDays festival is postponed, I guess the film has not yet had its official premiere. Until then and until I can see – and hear ! – the film in a cinema, these words of recommendation:
The film is divided into three chapters/films of each around 40 minutes, entitled: "The Virus of Expression », « Memory Corner » and « Alleluia » : First I thought « why » but watching, it is quite clear. To simplify, the first one is about creation following recordings of his works, the second is a conversation the director has with the composer in his home, the third one is a performance of one of his choir works.
A clear division and yet from chapter to chapter there is a progression, where you get to know Silvestrov and his look at music. A composer, as he says, is successful when his work is performed as it was meant to be. In the beginning you see him at a recording being unhappy with what he hears, making corrections to be conveyed by the recorder to the conductor, it takes time, you think wow, he is a stubborn old man but in the middle chapter, in the interesting conversation in his home, you feel the dedication and you hear about his problems with the Soviet authorities because of his avantgarde music, as it was condidered.
Through the whole film Bukovsky goes away from sequences – keeping the music most of the time – to let images from the beautiful ice-winter landscapes in and outside the city emerge ; often with trains passing by ; there is a sense for the detail and I did never feel it as « an illustration ». We are also in his humble flat, in a wonderful scene Silvestrov is looking at a Bruegel 2019 calendar, page by page, he is into art as he is into poetry with several sequences with music that he has composed to poems of the national poet Sevchenko (1814-1961). His poems are like psalms, he says, they can be song and recited. Patriotic psalms.
What is your favorite sound, Bukovsky asks Silvestrov. « When Dante describes music, he says « dolce », a tone taken with care and ease ».
Bukovsky tells the audience that Silvestrov completed his 9th symphony in 2019, he began working on it in 1996, the year when his wife died. Discreetly the camera travels along photos of the wife, never going into biographical details. At least not directly.
The last part – the choir singing « Allluia » – introduces again the urge for perfection in performance by Silvestrov. The choir that includes first of all young girls with braids – and its conductor – is interrupted again and again by the composer, « more tempo » etc. and at a moment a girl faints and the composer feels guilty because of all the breaks, he has made. They finish and Silvestrov turns to Bukovsky saying, « you can edit it right ? »…
Lovely film. Lovely man. Made « with care and ease".
Ukraine, 2020, 2 hours and 23 minutes.