Shevaun Mizrahi: Distant Constellation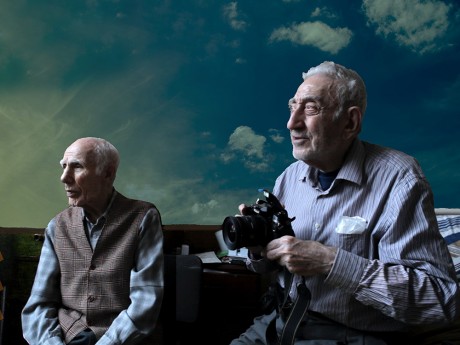 You can't see the wind a four year old family member said the other day.
Right she is. But you can hear it. And it can be part of a very excellent sound design as it is in this debut documentary film that I was happy to watch, having missed it in a couple of festivals, the last one Message2Man in St.Petersburg, where it received an award.
Music is an important part of the film of Shevaun Mizrahi. Within the walls of the house for old people, where the film is shot and where music forms a discreet background for scenes, creating atmosphere.
The atmosphere of the constant waiting the old people experience; those you can't help loving from start till end. The old woman who comes from Armenia and remembers how her family had to change their names when they took home in Turkey. The old photographer (on the photo) who is almost blind and is repeating his sentences again and again. The charmeur who plays piano, reads an erotic text and asks the director if they should marry, "I need someone in my life". And others.
They are on the edge of leaving Life with their memories in a dark film with bright absurd moments like the conversations in an elevator between the two old men, who go up and down talking to each other, hilarious it is, yes it reminds me of Beckett.
And outside there are construction workers, who are not from Turkey, who get out of their beds in poor container homes to go to work to earn money to send home. It looks like it is just outside the old people's retirement home – it's not important, for the old people it is another world than the one they lived in when younger.
A first film, a debut – bravo, a mature documentary film with many layers, visually with more interpretation than information, beautiful to watch, full of details, you see that the director, who is also the camerawoman was there for more than just a visit. Next film, please!
Turkey, 82 mins., 2017