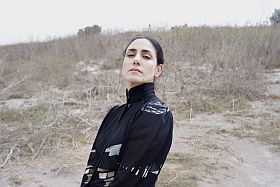 Last summer I was asked to make a review of a new Israeli film that created controverse at a festival in Sderot, protests from the minister of culture, before it went to Venice Film Festival and Toronto. I saw the film without any background information and wrote this long text for the Israeli web film magazine Takriv:
You look at the image of what you sense as a long and winding road, deserted, apart from a woman who walks closer and closer to you. You, the viewer, have time to wonder what is going to happen. She stops in front of you, looks at the camera, adresses it, adresses us the viewers, waits a moment and starts to talk. In Hebrew. Her story is shocking…
You get immediately the impression that the woman talking is an actress. Her sentences are clear and well formulated, well delivered, she knows her lines, she does not hesitate, it is like a monologue, that is written for her to say. She makes no speaking errors, it is important that the language is understood, as well as the reality behind the words. She speaks and keeps her face neutral, cool in a way, with dignity, her face does not express the horror she has gone through. And yet, at the end she fights not to give way to emotions. The camera, our eyes are on her face. The road, the surrounding landscape is her stage, you, the viewer, the target. The audience.
This first testimony goes on for 8 minutes, and you understand that the film director has chosen a hybrid form between fiction and documentary to tell his story. With this start he "makes a contract" with the audience, we know that it is a narrative that uses actors to tell stories from real life. At least we know that this first story, told by the woman on the road, sounds like it comes from real life. From an occupied territory in Israel. From Palestine. The woman tells us that she goes to Israel to clean houses, illegally of course, that she was
stopped by Israeli soldiers, that she was violently interrogated, punched in her face, picked up later by fellow Palestinians, taken to hospital for treatment, and then back to home. She has 11 children.
This opening sequence is followed by the title of the film, Edut – Testimony, and indeed the film is built as a slate of testimonies told by actors and actresses, who impersonate Palestinians, men and women, and Israeli soldiers. They come one after the other, these testimonies, and you are never in doubt that you look at actors and actresses. They pose when they address the camera/you, they are clear in language, you listen (for me: and read the English subtitles), and with the end credits you get the information that the testimonies are collected from different sources, human right organisations and from soldiers from the NGO Breaking the Silence, I suppose, which was also the source for Avi Mograbi when he made "Z32".
Sometimes the scenes are with more than one person: The two women at the sea, one is using sign language, I think she is repeating what the other one says. The scene reaches a climax, where the sign language stops to be accompanied with expression of pain through non-understandable sounds. The stories are conveyed with landscapes as the scenography at "the stage", or with forests, often in darkness, or with the sea in the background. In one case a testimony is given by dressed people, who have been placed in the sea. It is done, I suppose, it goes for the whole Stilisierung, to take the stories away from their natural surroundings, accentuate them and their harrendous content, the absurdity to be understood in a non-sentimental way. It is theatre on film, it makes me think about Bertolt Brecht and his Verfremdung method, with Greek Angelopoulos and his "Travelling Players" (O Thiassos, 1975) as a filmic reference point. A choreographed dance macabre!
And what do you get – one long staged, visualised and verbalised documentation of incidents, of confrontations, violent clashes, sofisticated humiliations, conveyed by Israeli soldiers – "as far as we know they are all terrorists" – and Palestinian men and women. Ashamed soldiers, some of them, often pushed by their superiors, and often into situations that call for a smile and a shake of the head. The killing of a three-legged donkey, for instance – it could be a ticking bomb! Or "fuck the donkey", to bring in another testimony given by a man.
There is, dramaturgically speaking, an augmentation of violence in the monologues, all spoken in Hebrew, the language of the occupier. Towards the end there is a stunning sequence that starts with the image of a young beautiful woman face – she could have played in a Rohmer film – who is only seen once, and has no words to say, maybe representing an "innocence", placed as the start of the story told by men in the water, a story about a Palestinian being ordered to undress completely to crawl around on the ground like a dog. Later on the donkey to be fucked (!), and a father whose son was killed, the actor looking bewildered into the camera just about to experience a mental break down.
The films ends, peaks is a better word, with music, an orchestra accompanies a singer (I have been told that her name is Dikla), who strongly performs a song (in Arabic) with lyrics about crying – from the English subtitles: If only I could cry to you, cry with you… it is like a scream for help on behalf of the traumatised Palestinians and Israelis. It is with power sensually conveying the despair, the anger and the tragedy the film has given the spectator.
I do not have the necessary information on whether the director has mixed some of the testimonies that he has collected, to create his monologues, neither do I know if he has met or talked with the people who gave their stories to his film. What I know is that I have seen a film with a clear and original form, with a more than disturbing content, a film that convincingly mixes a documentation with acting, film with theatre, cinematic composed images with precisely delivered lines. The director has found a superb solution to give life and voice to what we have been told many times before but never in such a condensed tense way.
Israel, 2011, 80 mins.
http://www.haaretz.com/weekend/week-s-end/a-sad-basis-in-fact-1.407095