S.Neuenschwander-Gindrat:Schneeweisse Schwarznasen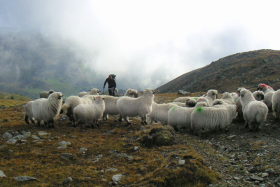 You watch this film with a smile on your face. You do so because you like the characters and you like them because the director likes them and is able to convey her feelings to the audience. We meet them with warmth and sympathy.
The scene is the Swiss Alps, the village is Eggerberg and the characters are blacknose sheep breeders, whose culture, way of living and relation to the modern world of efficient profitmaking does not give them a chance to live from the sheep. It's a hobby or an addiction as Reinhold Bittel, the most charismatic of them says, he who like the others have a job in town to earn money for the survival of the family. It's idyllic but it's also work, work, work, and several members of the younger generations have already declared that they have other hobbies. And no sheep smell for me.
The woman is responsible for inside, the man for outside… The film also focuses on family relations, the attitudes to what a good life could be. The wife of Reinhold, a wonderful woman, would have loved to travel but it never went that way and the week they went for Austria was hard for him, he was homesick from the very first moment!
The documentary – basically a one-woman's work – is classical in the way that it takes us to a place and a culture that we (I) did not know existed, it shows some extraordinarily beautiful animals, it gives us, no it shows us how a working day and year develop, and we get to know some people, who like the rest of us are looking for a good and peaceful life. We learn and we experience, what else do you want?
Succesful in Swiss cinemas, travelled to many festivals. First name of director (not space enough in the headline): Sylviane.
Switzerland, 2006, 86 mins.