Sources Mentoring Workshop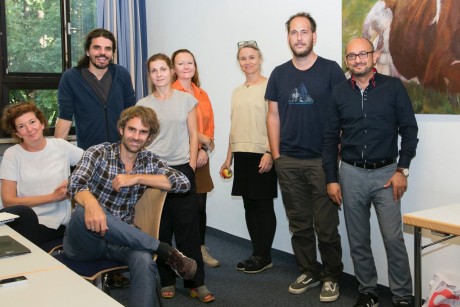 I was meant to arrive in Herrsching at the Haus der bayerischen Landwirtschaft Sunday, the day before the day where I should speak to mentors, who had signed up for the workshop, that dealt with mentoring. But coming from the Zelig film school in Bolzano to Munich, I had hoped, as experienced before, for a stay in the city to visit museums and relax…. I had forgotten about Oktoberfest and there was NO hotel rooms available. None at all. Marion Gompper from Sources saved me, providing a room with a bed at the venue by the Ammersee from Saturday night. Sorry Germans and lovers of Oktoberfest, but great to get away from Lederhosen and liters of beer after having enjoyed wonderful Italian Lagrein wine and grappa in Bolzano.
The training course, described by the organisers as "intensive", was meant to
"train mentors for European screenwriters and (documentary) filmmakers", being one element of "a three month process involving three work groups of five participants each. Three Sources 2 advisers guide through work processes, case studies and discussions."
The early arrival gave me the chance to experience (some of) a workshop that is totally different from the documentary ones I know from my time during "my" EDN (European Documentary Network) time and after, like Ex Oriente, Documentary Campus, Archidoc (that has unfortunately stopped, stupid decision of Media/Creative Europe) and others. Totally different in the way that it is based on lectures and didactically precise group work.
I had the chance to join a group session led by director, producer and pedagogue Arash T. Riahi. Pedagogue…? some will ask, who knows him very well as a filmmaker. Yes, I will answer, having attended his session an afternoon, where he presented a fiction treatment to the group of participants, who were script writers/editors, film consultants, commissioning editors, film school teacher, filmmaker. (Photo: Arash to the far right). He approached each of the participants asking them to respond to the treatment from their own perspective. And he did that with the role of being the young director/producer/script writer, who was proud of what he had done and wanted support from the people around the table: the arrogant applicant, the pleading (please give me money), the "well I know you can´t help me anyway", the "did you read the text". It was fun and educational in approach making the mentors think about, what they do in their daily work. And a scoop that the film – as a surprise – was shown in the very same night of the sessions.
For me personally it was fine to re-meet Arash. First time – if I remember right – was in Vienna 10 years ago, when the 10 years younger Iranian filmmaker showed me material from what was to be his "Exile Family Movie" that I loved so much and that won in DokLeipzig and went to Magnificent7 in Belgrade in 2007, where he was for the second time with his "Everyday Rebellion" in 2014, made together with his brother Arman.
Arash is a cool guy, a film lover and connaisseur, a workaholic, who has several projects on his desk, including interesting documentary co-productions, who has a feature film (his second) in post-production at the same time as he is a key person for the Sources training program as not only present at this mentoring workshop but also in workshops, where the headline is developing projects in other Sources workshops.
As for my own participation, talking about mentoring to mentors (at the workshop understood in a broader sense as teachers/tutors/consultants/c.editors) I was happy there were documentarians present – as Arash of course, but also people from Nordic film institutions like Ingrid Dokka from Nordnorsk Filmcenter, Pekka Uotila from the Finnish Film Foundation, film producer Brendan Culleton from Ireland and former arte commissioner Christine Reisen – as most of the talks were targeted to fiction, and it is a different world, I experienced, of storytelling approaches and writing methods, and less about Films and Film directors.
I had fine conversations with Finnish Pekka, who is a true documentarian with an amazing filmography as cameraman, first of all.
At a later point I will bring the whole or some of my speech at the Sources workshop – oh, so well organized it was – where I talked about being helping Russian Tatyana Sopoleva and Lithuanian Giedre Zickyte showing trailers from their work, and in general about watching rough cuts, how to behave with screenings, how – as a mentor – to say yes or no, writing in documentaries.
Thank you Marion Gompper and Julie Metzdorff – would have loved to meet documentarian Rolf Orthel, head of the board of Sources, again, but he had left, when I arrived.