Stan Neumann: The Surrealistic Photography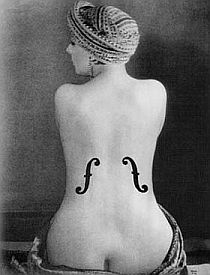 The Czech born, based in Paris, director Stan Neumann is a real auteur, who has been working a lot for the French-German cultural channel arte as one of the directors trusted by Thierry Garrel, when he was leading the arte Unité Documentaire. Neumann made two masterpieces, "Language does not Lie" and "A House in Prague" (the first one written about on this site) but apart from that he has been behind a huge series on Architecture and he has made a lot of documentaries for the television channel on visual arts.
One of them is a 2009 production on the surrealistic photography made in cooperation with the Centre Pompidou in Paris. It is one of those playful visual lectures that with an excellent commentary introduces you to not only the famous surrealists Man Ray (Photo of the legendary Kiki de Montparnasse), Salvador Dali and André Breton, but also to Dora Maar and Alvarez Bravo. You are entertained and informed, well you learn something when Neumann puts one photo after the other to our vision and manipulates the framing to make us wiser.
I watched it on the Danish digital channel for culture dr K.
France, 26 mins.
http://sales.arte.tv/detailFiche.action?programId=1350#