Stefan Valdobrev: My Mate Manchester United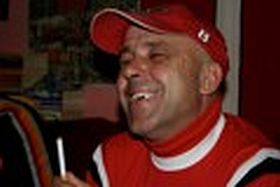 He lives in Bulgaria in Svishtov a town by the Danube. He is a building worker. And a fan. Of Manchester United. He orders a visit card that says "fan" as occupation and he wants to change his name to Manchester United Zdravkov Levidzho. The authorities do not agree with him, he takes it to court, he loses, but he keeps his identity as a fan, who friends and colleagues call Manchester. His friend and the friend's wife remember the glorious evening in 1999 where Manchester United went from 0-1 in the last minutes against Bayern München in an unbelievable finish in the final of Champion's League (I also remember where I was… in a German airport waiting for a connecting flight) – the two were hugging each other on the floor, crying of joy, the wife thought they were having a fight!
Manchester is an emotional man and his big wish is to shake the hand of the number 9 of the current Manchester United team, the Bulgarian striker Berbatov, topscorer in the English Premier League. He succeeds in a much bigger scale that he had hoped for, and he wears the sweaty shirt of Berbatov for three weeks before it is being washed and added to the collection and the photos on the wall!
No Marin alias Manchester Zdravkov Levidzho is not a stupid man. The film proves the opposite. He carries his obsession in a way that needs to be respected, and he has good observations on life in Bulgaria today. In that way the film also offers something to the non-football fanatics like the one, who writes these lines, and who went from the screening for a dinner in a restaurant where the television screen was showing Manchester United in their second match against Schalke 04, easily won by the Reds (4-1), who will meet Barcelona in the final May 28. I know what Manchester and I will be doing that evening. Thanks for a fine, both entertaining and thoughtful football documentary! (See also the text about "Football is God").
Bulgaria, 2011, 57 mins.