Storydoc Session in Corfu/ 1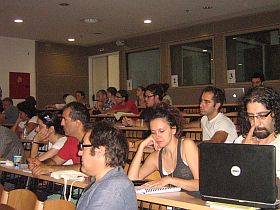 Documentary film projects from 11 countries, 21 of them, were developed during 5 days at the Ionian University in the city of Corfu. From morning till evening, July 11-15, the filmmakers, directors and producers, had meetings with invited tutors – filmmakers, broadcasters, distributors and all-round generalists. 14 tutors were there to give feed back, in group constellations, on what they saw and read from the filmmakers, who came with teasers and/or material to show. A very simple concept based on conversation and dialogue with the aim to give inspiration, convey knowledge and establish new alliances. Networking. A process that was very much helped by the fact that all participants at the workshop stayed at the same hotel that offered a swimming pool, a beach, a bar and a lobby, relatively cool, where emails could be checked and talks could be continued.
And very much stimulated by the generous and warm hospitality by the Storydoc daily management, the entrepreneur Kostas Spiropoulos and the organiser, often called Madame Storydoc, Chara Lampidou. It can not be easy to make a workshop in a country in deep economical crisis, but they do.
The five day workshop included so-called inspirational lectures and plenary presentations as well as a look at the Arab Spring and its consequences for documentary filmmaking in the involved countries. More about that below. Photo from a plenary session at the university.