Summerfest: Free Documentaries to Watch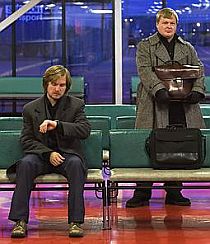 One year ago the humourous "Disco and Atomic War" by Jaak Kilmi and Kiur Aarma, a mix of archive material and reenactments, charmed the audience at the Baltic Sea Forum due to its originality and the story about what it meant to be a child in Soviet Estonia making all kind of efforts to be able to watch Finnish television. Jaak Kilmi (photo, to the left) has proved to be a fine talent for docu-comedies with a serious background. The film has travelled all over, it has won prizes, and Kilmi is a central character in the small country's film life.
Now the film can be watched for free on the site mentioned below, until August 12. A long interview with Kilmi accompanies the film. Several other documentaries are available, including "Videocracy" by Erik Gandini.