Sune Jonsson: Nine reflections /9
"…A documentary work is not intended for the esthetic connoisseur or the preoccupied consumer, but rather for people in vital need of increasing their knowledge: of transforming communicated environments, epochs, nature scenes into personal experiential substance – something with which to enrich their own inner landscapes."
NINE REFLECTIONS CONCERNING 1/125th
By Sune Jonsson (1978)
9
Quantity should be a part of the documentary method, a part of the documentary language of form. The 1/125th is a fraction of the historic flow. A great many 1/125ths are needed merely to illuminate one isolated situation. In the 8 years during which the FSA documentation took place, ending in 1943, over 270,000 pictures were taken. Perhaps, all together, those pictures provided a overview of the extent of the disaster and could form a basis for the nation's self-scrutiny. August Sander privately collected his panorama of the Weimar Republic's physiognomies, roles, and uniforms in 20 bulging folders. The definitive publication of this collection in book form, Menschen ohne Maske (1971) is consequently characterized by an extraordinary abundance of pictures, which we perceive as concordant with the documentary conception.
Merely casting light on so simple a thing as the seasonal metamorphoses of the farmlands of West Bothnia showing in pictures the effects of various implements, methods, or political decisions – requires a large number of pictures. Even though quanta cannot be contained by rational rules, there does exist for any documentary project a picture minimum that one cannot fall short of and still satisfy a documentary intent, reflect an environment or a social context fairly exhaustively. Oftentimes, one culls from documentary material for financial reasons, or to strengthen an esthetic effect, or to avoid repetition. This clashes with the nature of the documentary report. A documentary work is not intended for the esthetic connoisseur or the preoccupied consumer, but rather for people in vital need of increasing their knowledge: of transforming communicated environments, epochs, nature scenes into personal experiential substance – something with which to enrich their own inner landscapes.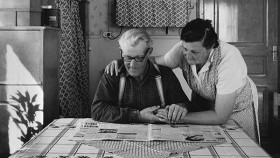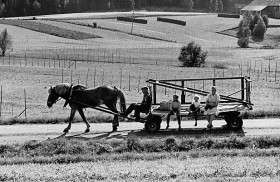 FOTOS
Sune Jonsson: Småbrukaren Helmer Jonsson med familj, Baggård, Nordmaling. Dokumentarisk arbejde, 1960, et meget lille udvalg af fotografierne i bøgerne Timotejvägen, 1961 og Tiden viskar, 1991.
https://randersbiografien.wordpress.com/museum-samling/ (Allan Berg Nielsen: Feltetnolog, 2016, lidt om Sune Jonssons fotografi og film)