Susana de Sousa D, Collected Postings on her Works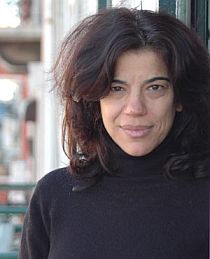 An academic film team would normally make me, a documentary addict, shiver with fear for the outcome of 48, in this case no, for that simple reason that I had seen the team's previous film that perfectly combined the background of aesthetics, philosophy, history and music with a creative intention… (Tue Steen Müller)
Susana de Sousa Dias at Cinéma du réel 2012
48 THE REVIEW 2010
by Tue Steen Müller
This is gonna be a bit longer blog text than usual. Simply because this is an extraordinary film that calls for more than an ordinary review. My co-blogger Allan Berg wrote – in Danish and after having seen 30 minutes of the film – that this would probably be the film experience of his festival viewing. It was definitely what it became for me. My hope is that the following will inspire festivals to introduce a totally different approach to writing history. To deal with memories. To seek a new minimalistic film language. And work with music and sound in a new way.
First an introduction to the team behind the film; the info is taken from their website: The director Susana de Sousa Dias – completed a thesis in Aesthetics and Art Philosophy and holds University degrees both in Painting (Lisbon University) and Cinema (National School of Theatre and Cinema). She studied music at the National Conservatory of Music and is currently preparing a PhD in Aesthetics, Art Science and Technology (University Paris 8). The producer Ansgar Schaefer – graduated in German Language and Literature and Political Science. Works as a historian and university professor. The sound designer António de Sousa Dias – composer, Ph.D. in Musicology (Paris VIII) sponsored by the Portuguese Scientific Foundation FCT. Is currently developing a research work on CAC – Université Paris VIII / MSH Paris Nord in the field of music creation and virtual environments.
An academic film team would normally make me, a documentary addict, shiver with fear for the outcome of 48, in this case no, for that simple reason that I had seen the team's previous film that perfectly combined the background of aesthetics, philosophy, history and music with a creative intention.
And with a sense for image and sound, and the putting the two together. To convey with Still Life. Faces of a Dictatorship (2005) the traumatic past of Portugal under Salazar. The film is 77 mins. long without any narration, built on archive from the 48 years between 1926 and till 1974, when the carnation revolution happened. The archive includes news, war footage from the colonies, propaganda films and photos of political prisoners. The musical score for this film, by António de Sousa Dias, is exceptional, first you wonder why but then you see what it does to the images, making a reflective distance and opens for a new both intellectual and emotional interpretation.
The same is the case in 48 where the sound design is made to make space around the voices of the political prisoners. But not only what they say come to the ear, also sounds of them being in a room to be interviewed and other sounds, as far as I could hear(!) that are made to match with the image and create the tense atmosphere.
Image after image, the prison ID´s, en face, profile left, profile right, faces of people looking at you, and looking at the photographer, who in many cases took part in the infamous torture conduct, described by the human beings behind the faces. They express anger and dignity, how could they be like that? It is terrible to watch what they say, in your head you make your own images. And then suddenly come voices that go for some absurd anecdotes from the prison life. Relief and a little smile. There is a work with details in very refined ways: A tiny light change in the photo is suddenly made, a fine almost imperceptible camera movement, the face comes closer or moves away.
One woman has suffered a lot because she smiles on her photo. How stupid of me to laugh! In the film context, the smile becomes one of defiance. In many cases there are more than one photo of the same person imprisoned more than once. They normally remember the photographic session. They remember the atrocities. They visualise them. In a way the film builds one long monologue changing visually at the end with some shots from Mocambique, a barbed wire fence, a tree, a camp – the prisoners talking did not have the photos any longer.
Let me end with the words of Allan Berg, translated and edited from Danish: "The portraits of the Secret Police appear calm and clarified for a long time on the screen. The ugly operation has lent the beauty, dignity and authenticity of the models… the images are carefully worked on so their aura become visible. The naked sound of the voices from the conversations are treated like was it delicate music. So it becomes delicate music. It is about the political crime of the Portuguese dictatorship… it is so horrifying and wild, and it is conveyed with such a beautiful and calm clarification". (Posting from Cinéma du réel, March 26 2010)
48 … SÅ DEN BLIVER TIL SART MUSIK
af Allan Berg Nielsen
Det hemmelige politis portrætter – forfra og fra siden, så vi ser afstandsstøtten i nakken – står helt roligt afklarede i lang tid på lærredet. Det hæslige forehavende har lånt modellernes skønhed, værdighed og autenticitet. De erindrende interviews lånt dem kendsgerningernes andre billeder, oprivende og brutale. Og mærkeligt også lysende humor. I tidsafstandens nødvendige distance. Billederne er nænsomt bearbejdet, så deres aura yderligere bliver synlig. Faktisk. Og den nøgne lyd af stemmerne fra samtalerne må være bearbejdet, som var det sart musik. Så den bliver til sart musik.
Det handler om det portugisiske diktaturs politiske forbrydelse. Overgrebene mod styrets modstandere. Om anholdelserne, ydmygelserne, torturen, fængselsopholdene. Det er så frygteligt og vildt, og det er fremstillet så smukt og roligt afklaret.
Filmkunsten her er usædvanlig dristig i sin minimalisme. En montage af ganske ensartede arkivbilleder og interviewenes lydbåndoptagelser. Ikke mere. Og netop derfor måske så meget. Jeg måtte gå fra filmen efter de første cirka 30 minutter (festivaljag..). Jeg havde set en torso. Men jeg har på fornemmelsen, at de 30 minutter bliver min vigtigste oplevelse på årets Cinéma du réel. (Blogindlæg fra Cinéma du réel, 21. marts 2010)
48 … WITH SOME IMAGES CONNECTED
By Tue Steen Müller
The local newspaper reports daily on the films and this morning the film journalist characterised the film 48 by Susana de Sousa Dias as a radiodocumentary with some images connected. He is totally wrong as he can read in the review(s) both Allan Berg and I made after seeing the film at Cinéma du réel this year in March – it got the Grand Prix at that festival. (Posting from Filmfestival Leipzig October 20 2010)
48 AT MAGNIFICENT 7
By Tue Steen Müller
If you click 48 on this site, you will have numerous hits. The film of Susana de Sousa Dias has been given many postings for its innovative, artistic exploration of the documentary language. It was one of the first films to be reserved for the 7th edition of the Magnificent7 festival here in Belgrade. It had to be shown at a festival that carries the name "magnificent".
At a masterclass for young filmmakers and art students the filmmaker brilliantly analysed her work of making the film during many years. She had met some of the characters in connection with her previous film, Still Life, also about the dark years of the Salazar regime, a film without words, where 48 (the number of years that the dictatorship existed) is based on words, i.e. the touching verbal memories of the tortured in Portugal and in the Portuguese colonies in Africa.
de Sousa Dias constantly used the expression "to get inside the shot" through the use of reframing, slow motion of the images, and fade-out's and fade-in's. The faces change via the use of tiny camera movements when the filming is done. She explained how she had done the interviews with the prisoners, and had spent hours and weeks in the editing of the words to find the liniarity and homogene tone that makes the film so extraordinary. In many cases she is keeping small sighs as sound accompanied by the original background sound from when the interviews were made. Her brother, a composer, helped her create the space, including the silences, that made the film a FILM.
For professional gatherings and film schools who want to have a fascinating look into the world of filmmaking, I can only recommend you to book Susana de Sousa Dias and her films for exciting lecturing and brilliant films. (Posting from the Festival Magnificent7, Belgrade January 29 2011)