Svetoslav Draganov: City of Dreams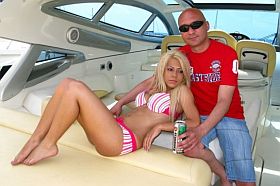 Bulgarian documentarian Svetoslav Draganov has a special touch, when it comes to catch so-called ordinary life as it is lived in his own country, very often in provincial cities. His gift is to make people and their dreams of a better life, or of fame or of success, interesting for the viewer, and he does so with an eye for situations and with a positive and warm approach to his characters, never wanting to judge or to make fun of them. Well the audience is invited to have many smiles and there is definitely a satirical tone, but it is never sarchastic.
Life is wonderful, isn't it – was the title of a previous film of Draganov, and the people in Dimitrovgrad aim at the same, to make life wonderful. They did so when the city was meant to be a communist model city (the film has wonderful b/w propaganda archive material from the Stalinistic times), and they do so today in a city where music plays a strong role for many. It is called chalga, pop-folk Bulgarian style, most often performed by young girls in very short skirts, who do not hesitate to show their talented bodies. The focus is on sweet Simona, who moved with her parents to the city to reach the stars, fighting hard to have her first record out accompanied by a music video, supported by her boy friend and (to a certain degree) by her mum and dad. Helping her is the former rock star, who is now a music producer (the bald man on the photo) and who seems to be "the spokesman" of the director composing a piece that brings the melancholic tone and lyrics like "you no longer have dream… all there is back is sorrow". Actually a pretty good earhanger.
Draganov uses a mosaic storytelling structure which gives the broader picture of then and now, past and present. He has fabulous moments with meetings of the old brigadiers who built the city, he creates a drama between a father and a son, who is opposed to the communist past, he gets close to Simona and the bald music producer and his family. And yet the danger of having a structure like that is that you often want to stay longer with one character or go deeper, but then you are brought to the next one. Sometimes – like with Simona – emotions are conveyed, other times, like with the son of the composer, you would have loved to have more. Nevertheless, respect for Draganov, happy for what he is giving the viewer, a director who has found his personal style and method of observation of human life.
Bulgaria, 2012, 75 mins.
http://www.eastsilver.net/en/east-silver/guests/draganov-svetoslav-6037/?aYear=2011&off=25