Svt Tonight : The Caviar Connection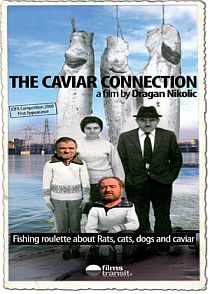 OBS! Especially for Danish and Swedish readers
: On this site the great film of Dragan Nikolic has often been mentioned and praised (go to "search" and write the title). Here is another piece of promotion on the occasion of the screening on Swedish public channel svt 1 tonight at 22.00.
The Caviar Connection is a documentary about the Rats brothers – two sturgeon fishermen and their dream to catch the BIG fish which will bring them the money to leave their small village in Serbia. The brothers and those who live around them are like characters from slapstick comedies, they always argue, cheat and calculate, they disagree but yet, always work together. While they gamble with written and unwritten rules of nature and economics, their characters become deeper without them even noticing it. (Transit Film, the distributor)
… A wonderful mixture of observational documentary and creative authorship. It shows the inevitable disappearing world of traditional fishing through the colorful, character driven story of one family. The film pulls us so fully into this world, that we can't help but have warmth for these flawed characters, find humor in their ordinary situations, and feel compassion for their struggles. (Jury motivation at ZagrebDox where it won first prize).