Tbilisi International Film Festival/4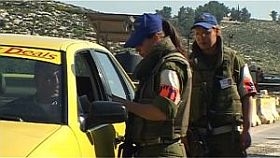 The short name is "Nationality: Human", the long one is the South Caucasus Documentary Film Festival of Peace and Human Rights. The festival is supported by the Open Society Georgia Foundation (Soros) and partners and the woman running it is Helena Zajicova, czech, with connection to the One World Festival in Prague. Zajicova told about the festival and showed the most popular film from this year's selection: Neighbours by Norman MacLaren (1952). Here is a text clip from the site of the festival:
The festival screens annually 10-12 high quality documentary films, selected by the festival board out of a number of films preselected jointly with partners from the One World Film Festival in Prague. Local organizes then choose 6 films to compose a three-day festival program with follow-up discussions. All films are dubbed in Russian and national languages. (Photo from "To See if I'm Smiling" from Israel, reviewed on this site)
Another interesting initiative was brought to the participants of the Pitch.Doc day in Tbilisi. Susanna Harutunian and Hasmik Hovhannisyan from the Golden Apricot IFF in Yerevan, Armenia (takes place yearly in July) informed about the DAB (Directors Across Borders). Again a cross-cultural get-together – here is a text clip from their 2009 website:
Summarizing the selection results for the 3rd DAB Regional Co-production forum, we are happy announce the following: more than 40 projects were submitted for both Directors Across Borders and Armenia-Turkey Cinema Platform sections. We would like to thank all the producers and directors for their interest in the forum and submitting their projects. This year the format of the event has changed a little. In particular, in the frames of co-production forum, two main events will take place – Directors Across Borders co-production workshop, which will invite 10 projects from the countries of the region (namely: Armenia, Turkey, Russia, Georgia, Ukraine and Estonia) and Armenia-Turkey Cinema Platform Documentary Development Workshop, for 6 documentary projects aimed to be co-produced between Armenia and Turkey.
http://www.ya-chelovek.caucasus.net/_team.html