Terence Davies: Of time and the City/on Narration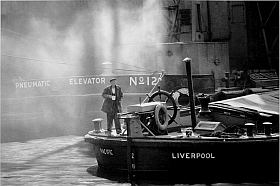 I can´t help thinking about this new film by Terence Davies, a masterpiece, I wrote about it a couple of weeks ago. October 28 the Guardian had an excellent interview with him. A constant flow of wise words on filmmaking. Here is a clip. Interviewer was Jason Wood:
JW: The film shows you a Liverpool beyond The Beatles and football, which is what people tend to think about when they think about the city. Your narration is very significant. It lends character because it is so impassioned.
TD: What was odd was that I was writing this commentary as I was doing it and recording it as a rough guide. We got someone to do part of the narration but it just didn't work and the producers said, "No, you must do it." I was worried that when you hear your own voice it can sound a bit like the Queen Mother after she died. I said, "Are you sure?" We recorded it in a day. I do feel impassioned about it. One thing I did notice was my breath control is such that I would become terribly asthmatic. I'm very conscious of that. It's strange because you can't hear yourself and it is always a shock to hear yourself. Do I really sound like that? All my films have strong Liverpool accents. It always makes me feel a bit embarrassed because I wonder where it came from? At one point they asked me to put in how I lost my accent and I said, "You can't be serious? You really can't be serious? I'm not doing that." I was worried and I was staying with my sister Maisie and I said, "When did I lose my accent?" and she said, "You never had one." What was wonderful is that part of the narration would come when I would see something that I thought was odd. I've got to put that in. I've got to say something there – something's that elliptical. And sometimes you don't know where it has come from. I don't know why you see three images and you think, "I've got to say that." But I was writing it as I was doing it and that was incredibly exciting I must say.