Terence Davies: Of Time and the City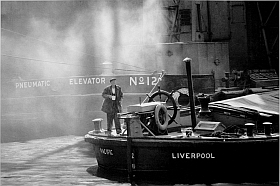 Sometimes you have high expectations and get disappointed. Sometimes your expectations are fulfilled. Sometimes you get much much more than you expected even if you had high expectations.
Terence Davies. Are you old enough to remember his "Distant Voices, Still Lives" from 1988? If not, you will search for it when you have seen this new masterpiece of his, made for the celebration of his native Liverpool: If Liverpool did not exist, it had to be invented.
That is what he says, in the most brilliant film text that I have heard for years. Quoting poetry, bringing in himself, in first person, remembering, calling for, bringing forward his childhood, the times that were, accompanied by visual archive material, by gorgeous shootings from today, from above, from the streets, from inside the church and with music, not the Beatles, not at all, sarchastic he is about "the yeah yeah yeah", no he turns to – among others – Mahler, Brahms and Händel. But there are also long wordless sequences of houses, people and weather. He lets the images talk for themselves, no working class sentimentality, but an interpretation of the life we live, the search for a good life, the longings, the sorrow, life and death. Stream of consciousness. James Joyce on film. A sequence of children from today. They have just learned to walk. There must be a future.
I was breathless after the screening. I want to see it again as quick as possible! Check the site and get a taste of this masterpiece.