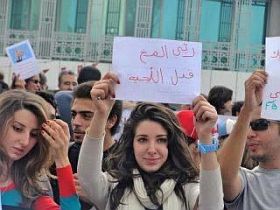 It's been a while ago since a text has been posted about the Arab Spring and specifically the Syrian Revolution. Not that nothing happens, on the contrary, the brutality and killings continue in Syria. I do, as many others I am sure, follow what happens primarily through Facebook that has links to YouTube with daily small reports about shootings and demonstrations in the streets. I told a Syrian friend about the frustration I get not to be able to read or understand Arabic. He answered that I should be happy about that because it would just mean me going from frustration to pure worrying.
But moments like this stimulates the creativity and the young woman on the photo makes her point with a text that I have had translated:
Grow your Brain, not your Beard.