The Edinburgh Pitch Projects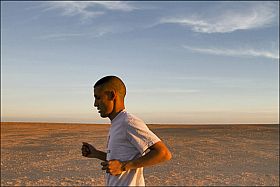 The DocWeek 2010, see below, organised by the Scottish Documentary Institute, hosted a one day pitch event that included 11 documentary projects, presented by American, UK, Chinese, Irish and Spanish filmmakers. In the panel to react to the pitches were the channels POV (US), BBC Storyville, BBC Scotland, DR Denmark, ZDF/arte, CBC Canada plus sales agent Autlook Austria and the local public funding mechanism Scottish Screen.
Project content? A film about Chinese muslims. One about an American fashion designer who wants to help Sierra Leone by "turning Western cast-offs into haute couture". An investigation into the life of a man who led "a dual life as revolutionary activist and informant for FBI". A human life story from Liberia on the "extreme challenges Liberian Firestone Rubber Plantation workers face today". "Orion: The Man Who Would be King" = Jimmy Ellis, an unknown singer who was given a new identity behind a mask, as "Elvis back from the grave". A garbage island next to the Maldives. A mother and her two sons in a fascinating and moving story with the working title "Trailer Park Love". An original musician and composer, Moondog, who stood as a "Viking of Sixth Avenue" in New York, everybody knew him and he was an artistic inspiration for people like Philip Glass. A film about the cultural dilemmas the population of the Easter Island faces. And a local (Scottish), and yet universal project called "You've ben Trumped" from a place North of Aberdeen where American tycoon Donald Trump wants to build a holiday resort for the filthy rich, wanting to get rid of the local residents. Finally, the best presentation to my mind, "The Runner" (Photo), by Saeed Taji Faroucky, a Palestinian who wants to make a film about the champion long-distance runner Salah Ameidan, who dreams of running for his country, Western Sahara, under Moroccan occupation since 1975. (You can see the trailer on vimeo, google "Salah Ameidan the runner vimeo")
They all showed trailers, they all got got response, most of them got the answer "come back to me when you have more to show", which is the normal sentence in pitching sessions nowadays. Nobody dares take risks… and competition is pretty tough.
http://www.touristwithatypewriter.com/