The Syrian Revolution/ 10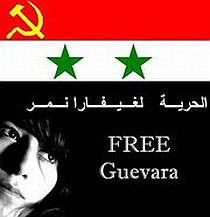 It goes on and on, when will it stop or be stopped, the brutality in Syria? Today is friday, the day where many will be killed, as we know it from many weeks and months. And people opposed to the regime are arrested. It is the menu of the day and of course you notice it even more when it is someone you know
Like this time Guevara Namer, photographer and part of the staff behind the Dox Box festival in Damascus. We met her again in Amsterdam this year at the idfa festival – her first travel abroad after the regime had given her and others of Kurdish origin an identity card and a passport. At an age of 27! On her way to the next festival, the one that goes on in Dubai, she was then, at the airport, taken away from her colleagues.
As before when others have been arrested, friends have immediately put up a site for her, address below. The Syrian Center for Media and Freedom and Expression writes the following, edited version:
The immigration authorities at Damascus International Airport at four oclock this afternoon 8/12/2011 arrested the photographer and film producer Guevara Namer while she was traveling to the United Arab Emirates to attend the Film Festival of Dubai where she was among a group of Syrian artists and journalists who have been invited to attend the festival…
Guevara was born in 1984, she is a graduate of the Institute of Photography in Damascus and a fourth-year student at the Higher Institute of Dramatic Art Studies Department. She was one of the Syrian Kurdish citizens deprived of their citizenship and has her passport only for a short time.
The Syrian Center for Media and Freedom of Expression expresses its strong condemnation of the arrest of photographer and film producer Guevara and demands her release and strongly condemns the way and the place where they arrested her – as if it were an ambush focus of the Syrian citizen when she goes to the border ports.
http://www.scm.bz/?page=show_det&category_id=94&id=803&lang=en