The Syrian Revolution/ 11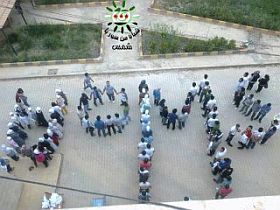 It goes on and on… this is what I copied from BBC this afternoon:
"At least four people have been killed as security forces and militiamen raided student accommodation in Syria's second city, Aleppo, activists say. Live ammunition was reportedly used to disperse an anti-government protest outside dormitories adjacent to Aleppo University's campus late on Wednesday. As many as 200 students are thought to have been arrested during the raid. The university has announced it is suspending all classes for the rest of the current academic year. Aleppo has so far not experienced the violence and large-scale protests seen in other cities during the uprising. But there have been almost daily demonstrations by its students." (Read the rest of the article, link below).
On Facebook there are texts and photos and drawings and cartoons from Syrians, who express their emotions and points of views and informs about what we do not get in the big printed and electronic media. Here is a wise pov from Orwa Nyrabia, who frequently writes in his "Syria and Me" FB page:
"Minorities, just like the west, the EU and the US, are afraid of an Islamist Jihadist Syria, they are skeptic and they withdraw, thinking they need to be sure. They are forgetting that every minute of withdrawal from their side is a great support to that jihadist potential they are afraid of. It is only by taking an active part, contributing in a proactive manner, that such tendencies can be minimzed."
The photo speaks for itself: Homs…
http://www.facebook.com/syrian.revolution.photos
http://www.facebook.com/pages/Syria-and-Me-The-Revolution-Chronicles/318536521531396