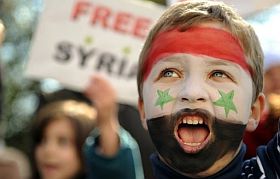 How to follow what happens in Syria? Incoming shaken visual reports, amateur footage from amateur cameras or mobile phones, many people risk their lives to report to us and to have their clips put on youtube or on the sites of tv channels.
I went to al jazeera tonight – their start lines from todays killings by the regime go like this:
Syrian forces have killed nearly 142 people, including at least 100 when the army stormed the flashpoint protest city of Hama to crush dissent on the eve of Ramadan, activists have said. Rights groups said it was one of deadliest days in Syria since demonstrators first took to the streets on March 15, demanding democratic reforms and the downfall of the government…
On the site of avaaz, see below, you can sign a petition " to investigate and press for an end to the disappearances of nearly 3000 innocent Syrians".
And on lccsyria.org videos are uploaded as the massacre continues.
http://english.aljazeera.net/indepth/spotlight/syria/
http://www.lccsyria.org/ (photo from that site)