Thierry Paladino: At the Datcha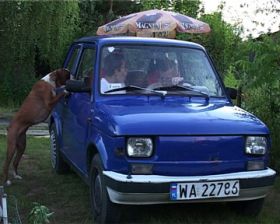 Holiday. The family goes to the countryside, to the datcha. We don't know if it is far away, probably not if you judge from the condition of the car, that has severe problems in getting started. It can not have gone far!
Mother, father and son have a good time. Father (deaf) is organising all the time, not with big talent, but he is constantly busy with the repair of the datcha or with the playing or teasing of the dogs. Mother is walking around in her black underwear enjoying the good weather, she sits in the white plastic chair and the son is helping out the father as well as he can. Actually nothing is really happening. Holiday time for all temperaments. A lesson in How-to-do-it-yourself!
And the filmmaker? He conveys beautifully the atmosphere with love for his characters and with great talent for situations and moments of absurdity. And he uses with talent the short film documentary observational language in a film practically without words.
Thierry Paladino: At the Datcha, 2006, Andrzej Wajda Master School of Film Directing, 30 mins.
http://www.deckert-distribution.com/films/deckert_237.htm